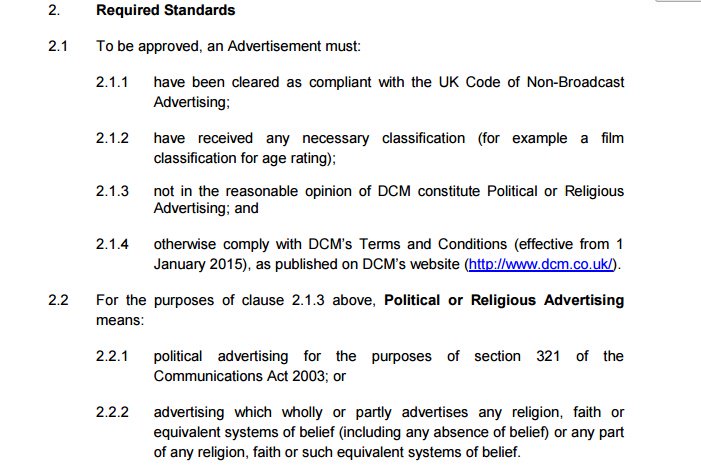 The picture above is an excerpt from
DCM's standard terms and conditions for accepting advertising
. They have been this way for a year or so, when they were changed to remove "party" from before "political" after so many people in Scotland complained about the Yes and No referendum campaign adverts. You will note that the small change I mention happened before the CofE even thought about filming their advert.
I am sure you are all aware of the maxim that one doesn't talk about religion or politics in public because someone is bound to get upset? DCM have this policy for that reason: whatever religion (or lack thereof, you'll note) is mentioned, someone is bound to get upset, demand their money back from the cinema, start protests, whine on social media, etc, and it's just not worth it. From a commercial point of view, if the money you make from accepting an advert doesn't cover the cost of the trouble the advert will cause, why would you even bother? As Ian Dunt points out
here
, it's not like the British Humanist Association, among others, haven't fallen foul of the same policy*. How anyone can claim with a straight face that this is discrimination is beyond me.
So no:
the CofE are not being discriminated against: this policy applies to groups of all religions and none. As LegionsEagle put it earlier, it's a category-based exclusion, not a content-based one.


this is not a new policy, nor should it have been a surprise to the CofE, nor was it suddenly brought in for some nebulous reason to do with muslims (try not to let your naked islamophobia show there)


The church of England is not some persecuted minority. They have a reasonable percentage of the legislature of the country all to themselves
I've spent half the day telling all and sundry from BBC Radio Leeds to everyone on twitter that this is a big fuss about nothing, is being massively misrepresented by the church for whatever ends, and it annoys me that the media are falling for it like they did for the sodding
Winterval Myth
; and so now I have typed it all out in a blog post I can just C&P the link.
---
*it's a shame Ian doesn't make the intellectual leap to apply the same logic to the other frozen peaches he's been trying to stop from thawing recently, but I think Ian and I just fall on different sides of the fuzzy-like-peach-skin generational divide line so eloquently described by Andrew
here